Different types of Tumble dryers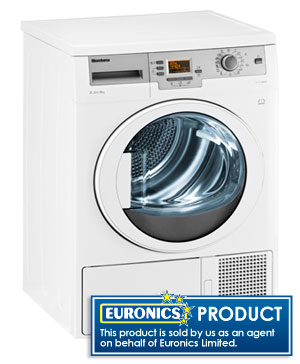 Vented Tumble Dryers
These are the original dryers, you'll recognise the vent (tube/hose) that is generally hung outside a window or door to get rid of the moist air. They are the very basic type, but are good at their job if you choose a decent one.
Condenser Tumble Dryers
These are found more and more these days, designed to fit into the kitchen or utility room without the need for a vent, so as you can imagine they are a lot more convenient. The main difference is that the expelled air will pass over the condenser and condense the water to a tank you can empty after each load, rather than having a hose.
Heat Pump Tumble Dryers
These work along the same lines as a condenser tumble dryer, but instead of a heating element, they have a small heat pump that provides heat to dry laundry.
These types of Tumble dryers are more energy efficient.
Tumble Dryer settings explained.
Iron Dry – This setting will leave your clothes slightly damp, to allow better ironing.
Cupboard Dry – This setting should allow you to put your clothes away without the need to hang out.
Extra Dry – A longer setting usually used for thick fabrics such as towels, bed sheets and duvet covers
Easy Care – This is used for synthetic items (polyester,etc). Usually half the load.
Delicates – A lighter heat designed to look after clothes of this type
Easy Iron – This allows you to relax the fibres in 'already-dry' clothing for an easier ironing experience
Anti – Crease – This setting is designed to stop clothes creasing.
Cool – Designed to take out odours in clothes, without the need to wash them. Food smells, smoke, etc.